Are you wasting time?
This question might make you squirm, but let's ask it anyway…
Are you wasting time in the gym?
Do you regularly push yourself to the limit? Do you feel the burn with each rep? Do you have nothing left to give when it's over?
Or would you describe your routine more like a comfortable trot? Do you coast along, breaking a respectable sweat while doing the same old thing?
Since you are spending a portion of your valuable time exercising, I assume that you have goals and aspirations for your body. And I also assume that if you had the option to achieve that leaner, more toned body even faster you'd jump at it!
The following tips are going to show you how to spend less time exercising, while achieving quicker, more noticeable results. Sound good?
Be Focused. It sounds obvious, but this crucial requirement for an effective workout is often overlooked. Don't be one of those people who exercise their jaw muscles (from chit chatting) more than any other muscles. When you're lifting weights, focus on that specific muscle group. Researchers have proven significant increase in muscle activity when people focused on what they were doing, compared to thinking about unrelated topics.
Be Confused. Err, more specifically your muscles should be confused. Do this by changing up your routine often. This helps to avoid plateaus and to continuously challenge your body. Try new exercises at new intensities and new weights.
Be Nourished and Hydrated. Stay on top of your food and your hydration levels. The best results are achieved when you're drinking enough water and eating real, wholesome foods.
Be Strategic. The time of day that you exercise makes a huge difference in your results. And no, I'm not going to say that there's a universal 'right time' to workout. Your job is to figure out when your body is at its best and to make that the time that you consistently exercise. If you're not a morning person, then don't force yourself to wake up at 5am, try working out after work instead.
Be Watched. There's a benefit to working out in a group setting. Researchers saw a significant increase in strength and endurance in the people who had an audience versus those training on their own.
Be Caffeinated. Caffeine has been shown to help burn fat and to increase endurance. If you don't have any medical conditions that would otherwise make moderate caffeine intake unsafe, then drink a caffeinated beverage one hour prior to working out.
Be Pumped Up. Check this out: researchers found that music motivated weightlifters to complete two more repetitions on average than those who were not listening to music. That's a great reason to listen to upbeat music while you exercise.
Be Comfortable. Not only will you be happy to put comfortable workout clothes on, but you will also be able to focus better on your workout, rather than wondering if your pants will split when you squat.
Be Smart. If you're not already one of my valued clients, then now is the time to become one. Working with a professional ensures that you're being challenged and are seeing results. And that's just smart, right?
If you don't know where to start when it comes to exercise, I'm here to help.
It's my passion to make exercise a part of your life that you look forward to and are rewarded by.
Call or email me today and we will get you started on the exercise program that completely transforms your body.
I Exercise Because…
Do you have a goal for each of your workouts? Having a goal is more important than you may think.
When each session is goal-oriented, you'll get the most out of your exercise time.
Decide how long you'll go for, how many reps you'll do and at what intensity before your workout begins. Then go for it.
To take it a step further, set clear goals, write them down, and keep a record of your workouts. There's nothing quite like knowing exactly where you want to be, where you currently are, and what you've achieved.
Roasted Cauliflower Steak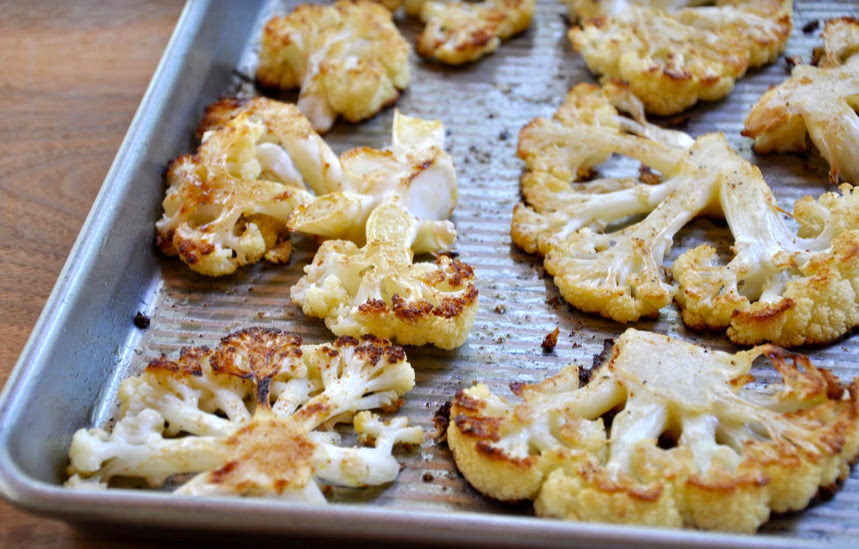 ​
This is such a simple recipe and yet it yields so much satisfaction! If you love salty foods like chips or crackers, then this Cauliflower recipe may be the guilt-free snack that you've been searching for.
I like to slice the cauliflower into large slabs, like steaks, however be aware that not all of the pieces will stick together. That's perfectly fine! Smaller pieces of roasted, seasoned cauliflower taste just as delicious as the larger pieces.
Enjoy these Roasted Cauliflower Steaks as a side dish for your next meal or eat it as a delicious and guilt free snack!
What you need
Serves 4
1 head cauliflower, cut into ¼ inch thick slices
olive oil spray
salt and pepper
All-Purpose Seasoning
Instructions
1. Preheat oven to 375 degrees. Lightly spray a rimmed baking sheet with olive oil.
2. Slice the cauliflower into ¼ inch slices. Lightly spray each side with olive oil and sprinkle with salt, pepper and all-purpose seasoning. Lay the pieces out on the prepared baking sheet.
3. Bake in the preheated oven, flipping the pieces after 15 minutes, for a total of 30 minutes. Enjoy!
Nutrition
One serving equals 18 calories, 0g fat, 3g carbohydrate, 1g sugar, 128mg sodium, 2g fiber, and 1g protein.
Motivate your friends, family and co-workers! Use the "refer a friend" link below to forward this newsletter to your friends, family, and coworkers.