Oh the dreaded plateau…
You've been working hard on your fitness game and it paid off. The pounds started to drop! And then one day your results stopped. You keep putting in the same effort without any sign of improvement.
You've hit a frustrating plateau.
Or have you? Before you blame a fitness plateau for your lack of results let's critically consider the following:
1. Your Diet: It's human nature to begin to slip on your nutrition after a few weeks of stringent diligence. A small treat here, and a bite of something there, and before you know it you've fallen back into old eating habits. If your results have stopped then take the next few weeks to track your nutrition and hold yourself accountable for every bite.
2. Your Workouts: If your nutrition has truly stayed on point then your workouts could be the problem. Are you slacking on the final few reps? Have you reduced your overall intensity in the gym? Did you skip a few sessions last week? Before you blame a plateau for your reduced results take a really hard look at your effort in the gym. Rededicate yourself to pushing as hard as you can.
3. Your Sleep: This is a tough one for so many people, but you simply must be getting adequate sleep in order to lose fat and develop muscle. Your body needs close to eight hours of sleep each night in order to recover from your workouts and to maintain balanced hormone levels. Getting to bed on time is vitally important to your fitness results.
If you have tackled the three steps above and still don't see the number on your scale moving in the right direction, then move on to these next plateau-busting steps…
4. Track Your Efforts: It's time to get meticulous with tracking your fitness efforts, from exactly what your workouts consist of, to exactly what and when you eat in order to constantly improve. Make it your goal to outdo yourself every day. If you're constantly performing better today than you were yesterday, then your plateau will quickly become a distant memory.
5. Track Your Results: Simply checking your weight on the scale is not a thorough enough measurement for your progress. Start tracking additional metrics for change. Take your measurements. Have your bodyfat tested. Take pictures of yourself weekly. It's important to be fully aware of how your body is changing as a whole unit, not just the number on the scale. You may be surprised to find that your body fat has been dropping while your weight has stayed the same.
See me for additional strategies on breaking through your fitness plateau. Together we will get you on a program that will melt fat and expose shape and definition.
Call or email me today to get started. Let's do this!
The Bad Week
Once in a while you are going to have a bad week. Your nutrition will be off, your workouts will be weak, and your head will not be in the game.
That's OK.
Remember that you are human, and that sometimes your body needs a little break. The key is to take care of yourself in that moment, to not let yourself stray too far off your fitness plan during the time of rest, and to then get yourself back on track next week.
Many people allow a bad week to spiral into a bad month, or even a bad year. My hope for you is that you're able to give yourself time to rest and then quickly get back to your program in full force, rested and ready to get at it!
Easy Beef Brisket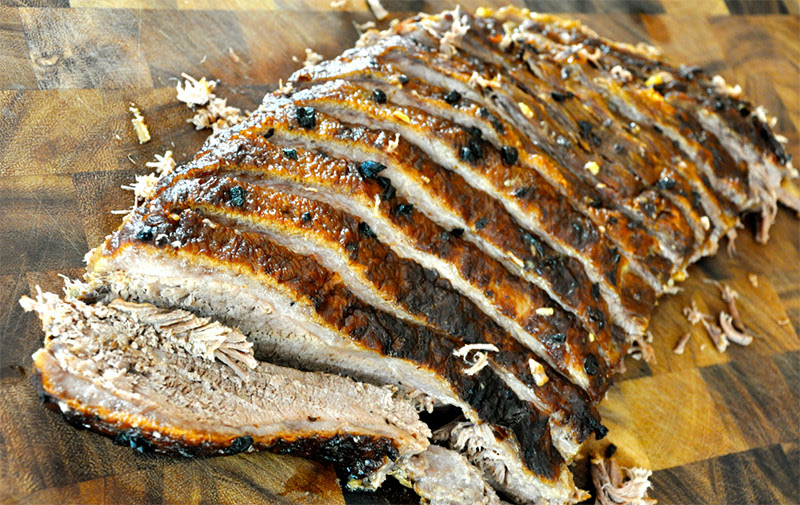 ​
It's important to enjoy whole food protein sources like this Easy Beef Brisket in your fitness meal plan. In addition to being one of the most delicious dishes you'll ever make, you may be surprised to find it is one of the easiest.
Don't let the lengthy cook time deter you. It's as simple as mixing up a marinade, letting it sit overnight, and then popping it in the oven to slow cook for half of the day. Make it on the weekend and enjoy the delightful aroma as it cooks.
What you need
Serves 12
1 Lemon
5 cloves Garlic
4 cups beef broth
1 cup coconut aminos
1 tablespoon liquid smoke
5 pounds beef brisket

Instructions
1. Combine all of the ingredients, except the brisket, in a bowl. Mix well.
2. Place the brisket in a large roasting pan, fat side up. Cover with the marinade. Cover the roasting pan tightly with foil. Marinate in the fridge for 24–48 hours. Let those juices do their flavorful magic!
3. Roast at 300 ̊F for 4 hours, or 40 minutes per pound. Remove the foil after 4 hours, place under the high broil for a few minutes to lightly char the top. Transfer to a cutting board and slice. Put the slices back in the juices. Serve hot. Enjoy!
Nutrition
One serving equals 310 calories, 9g fat, 321mg sodium, 4g carbohydrate, 0g fiber, and 47g protein