7 EASY Dinner Recipes
If you have stubborn weight to lose that won't seem to come off, no matter how hard you exercise, then it's time to closely examine the meals that you eat. When I go through this process with a client it's nearly always high calorie dinners that are the reason that their results have slowed or stopped.
This is a tough one for most of us. Life, work and family are hectic and time consuming, so the concept of eating a healthy, simply prepared dinner may seem completely out of reach.
I believe that we overcomplicate the idea of a healthy dinner. This is because we are so used to eating out at restaurants where entrees are accompanied by sides, sauces and garnishes.
Here are 7 truly healthy dinners that are quick and simple to make…
1. Roasted Broccoli & Poached Eggs: Toss chopped broccoli with a little olive oil, sea salt and minced garlic and roast on a baking sheet at 425F for 25 minutes. Drizzle with lemon juice and serve with poached eggs.
2. Slow Cooker Beef Short Ribs & Sautéed Kale: Brown 8 beef short ribs in a skillet with coconut oil. Place in a slow cooker with ½ cup coconut aminos (or soy sauce), 1/3 cup coconut palm sugar, ¼ cup apple cider vinegar, 1 Tablespoon crushed garlic, 1 Tablespoon crushed ginger and ½ teaspoon ground red pepper. Cover and cook on high for 6 hours. Serve with sautéed kale.
3. Super Greens Salad & Roasted Chicken: Combine a mixture of super greens in a large bowl: baby spinach, beet leaves, arugula and kale. Top with sliced, grilled chicken and drizzle with balsamic vinegar glaze.
4. Baked Catfish & Shredded Cabbage: Grease a casserole dish with olive oil and scatter 1 cup of chopped cilantro over the bottom of the dish. Wash and pat dry 4 catfish fillets. Rub the fillets with curry powder, sea salt and sweet paprika. Lay the fillets evenly in the dish, over the cilantro. Drizzle the fillets with lemon juice and sprinkle with chopped garlic. Bake for 30 minutes at 350F. Serve with shredded cabbage.
5. Stir Fried Chicken & Veggies on Cauliflower Rice: Sauté chicken breast, sliced onions and sliced bell peppers in a skillet with olive oil. Season with sea salt, black pepper and fajita seasoning. Set aside. Cut a head of cauliflower into small pieces and run through a food processor with the shredding attachment. Sauté the shredded cauliflower for 5 minutes in a skillet with a teaspoon of olive oil. Serve the chicken and veggies on top of the cauliflower rice with a side of coconut aminos or soy sauce.
6. Smoked Salmon Omelet & Sliced Tomatoes: Whisk together 3 eggs with a sprinkle of sea salt and black pepper. Cook in a heated skillet with a teaspoon of olive oil. Line the egg with smoked salmon and a sprinkle of shredded cheese. Fold the egg over the salmon and cheese, and serve with sliced tomatoes.
7. One Pot Chicken & Veggies: In a large skillet, brown a pound of chicken tenders in olive oil. Season with sea salt, black pepper, dried basil, crushed rosemary, sweet paprika, dried thyme, dried parsley and cumin. Add 4 cups of chopped veggies (zucchini, onion, tomatoes) and 4 cloves of chopped garlic. Cover and simmer for 20 minutes, until tender and fully cooked.
You see, healthy dinners can be quite simple to prepare. Don't get too hung up on the exact measurements of ingredients and instead focus on combining a handful of quality ingredients together in a delicious way. There's no such thing as a dinner that's too simple when nutritious, wholesome ingredients are used.
Don't forget that a consistent, challenging exercise program is the key to getting and staying fit and lean. If you've been dragging your feet about joining one of my programs then today is the day.
Call or email to get started. Let's do this!
Quick Fast Food Guide
Let's face it, there will always be those nights when cooking is simply out of the question. Here's my quick guide to making smart choices when you're stuck eating a fast food dinner…
Choose Grilled: many fast food restaurants serve grilled chicken – choose this as often as you can.
Ditch the Bun: If a sandwich or burger is the only option then lighten it up by asking to have it lettuce wrapped or simply ditching half (or all) of the bun.
Dressing on the Side: Salads are a great choice, but don't ever let the restaurant drench it in dressing. Get the dressing on the side and simply dip a little bit to taste. Also avoid croutons or any other high-calories add-ons.
Skip the Fries: Most fast food places now carry more side options than just fries. Avoid all of the fried sides and stick with steamed vegetables or fruit.
Don't drink Calories: Just because you're eating out doesn't give you license to drink a few hundred calories. Stick with water or unsweetened iced tea to easily avoid unnecessary sugar and calories.
Fruit for Dessert: That package of cookies or brownie that comes with your meal may look tasty, but you're not eating it. You have a fitness goal, remember? Stick with fruit and you'll be leaner and happier for it.
Chicken Pot Pie Soup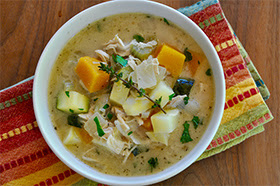 ​
Who doesn't love Chicken Pot Pie? Creamy, hearty chicken soup wrapped up in a warm flaky crust…it sounds dreamy, but it's actually a nutritional nightmare! Not only are there far too many carbs and calories in the crust, but the soup itself is often filled with heavy dairy products and noodles that make weight gain automatic.
I have a lightened up this recipe for Chicken Pot Pie Soup that gives you the same flavors and comfort of Chicken Pot Pie, while keeping you on track with your fitness and fat loss goals. Enjoy this warming recipe on chilly day!
Servings: 16
Here's what you need
1 tablespoon coconut oil
2 yellow onions, diced
3 stalks celery, sliced
2 teaspoons Garlic, minced
¼ cup coconut flour
½ cup white wine
6 cups chicken broth
2 cups Butternut Squash, peeled and cubed
2 cups sweet potato, peeled and cubed
3 sprigs fresh thyme
1 tablespoon poultry seasoning
1 bay leaf
3 cups roasted chicken, chopped
2 (14 oz.) cans coconut milk, full fat
1 cup Pearl Onions, halved
1 Green Zucchini, diced
¼ cup fresh Italian parsley, chopped
1 tablespoon lemon juice
salt and pepper to taste
Instructions
Melt the coconut oil in a soup pot over medium-low heat. Add the onions, celery and garlic. Cover and cook for 5 minutes.
Stir in the coconut flour and cook for 2 minutes. Stir in the wine and cook until evaporated. Stir in the broth, butternut squash, thyme, poultry seasoning and bay leaf. Bring the soup to a boil over medium-high heat and then reduce to medium. Simmer the soup until the butternut squash and sweet potatoes are tender, 10-15 minutes. Discard the thyme and bay leaf.
Add the chicken, coconut milk, pearl onions, diced zucchini, parsley and lemon juice. Season to taste with salt and pepper and simmer for another 5 minutes. Serve hot and enjoy!
Nutritional Analysis
One serving equals: 227 calories, 15g fat, 11g carbohydrate ,4g sugar, 329mg sodium, 3g fiber, and 12g protein.
Spread the word. Use the "refer a friend" link below to forward this newsletter to your friends, family, and coworkers.