Never miss a
Monday
. Here's why…
Mondays matter more than any other day of the week.
This is because your actions
on Monday
set the tone for your entire week. Start out on the wrong foot and it could take days to get back on track.
Mondays are like mornings. If you win your mornings, you're usually going to win your day.
Starting out with a healthy, balanced breakfast that avoids sugar and is full of fiber and protein gets you primed to eat healthy again at lunch, and again at dinner.
Likewise, when you exercise
on Monday
, you're going to set yourself up to have an active and fit week. When you show up prepared and rested on a
Monday
, the rest of the week flows with successes and wins.
Fact: When you get that

Monday

workout in, you're 4 times more likely to get in a Tuesdayworkout... and that

Tuesday

workout leads to getting workouts in the rest of the week.
On the flip side, when you don't show up on a
Monday
with your A-game then you're left chasing the rest of the week and playing a game of catch up.
This is true for your fitness, health, mindset and work.
When you choose to skip your workout
Monday
morning,
and eat whatever is quick and available rather than what's healthy, then you've started the week on the wrong foot, and you will spend the next several days backsliding away from your goals.
The fastest way to the top in fitness and health is to show up Mondays rested, prepared, and ready to dominate. Never miss a
Monday
again. Embrace
Monday
with enthusiasm and vigor.
Let's make this week count!
Call or email me now to get started with my results-driven fitness program.
Skipping out on exercise
on Monday
in order to make yourself feel better? Think again.
Research shows that the endorphins (happy hormones!) released during exercise makes you feel better, increases your self-esteem, and reduces anxiety.
So if you'd like to walk into work on Monday feeling good, with increased self-esteem, and reduced anxiety then grab an early morning workout instead of another hour of sleep.
Squash and Fennel Salad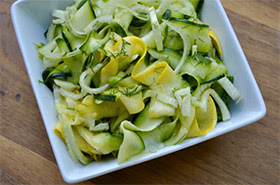 ​
This salad wins the award of the most refreshing side dish ever! The combined essence of fennel and lemon give ordinary zucchini extraordinary flavor in this simple, invigorating salad. Consider it your new go-to side dish to enjoy with grilled steak or chicken.
Here's another flavorful reason to ask more from your side dishes. Do you really need traditional, grain-filled noodle salads when it's possible to create a veggie noodle salad like this instead? This one tastes better and is better for you…one bite and you'll see what I mean.
Servings: 4
Here's what you need
For the Squash and Fennel Salad
2 green zucchini
1 yellow squash
1 fennel bulb and fronds
1 teaspoon coarse salt
For the Lemony Dressing
2 Tablespoons olive oil
1 Tablespoon lemon juice
½ teaspoon lemon zest
½ teaspoon garlic, minced
2 Tablespoons fennel fronds, minced
sea salt and black pepper to taste
Instructions
Use a veggie peeler to turn the zucchini and squash into long, flat noodles. Cut the fennel bulb in half, and then slice into thin half moons.
Throw the squash noodles and fennel slices into a large colander and sprinkle with the coarse salt. Mix the salt into the veggies and let sit for 20 minutes over a plate. Squeeze the veggies gently to release excess water and transfer to a salad bowl.
In a small bowl combine the dressing ingredients. Toss the dressing with the veggies and chill until serving. Enjoy!
Nutritional Analysis
One serving equals: 81 calories, 7g fat, 5g carbohydrate, 2g sugar, 489mg sodium, 2g fiber, and 1g protein.
Spread the word. Use the "refer a friend" link below to forward this newsletter to your friends, family, and coworkers.