Oops, You've relapsed
Is this you? Have you relapsed into your old unhealthy habits?
The sad truth is that nearly everyone who started off 2020 with strong fitness goals has by now given up. I sincerely hope that this is not you.
This is the cycle that happens when you relapse into your old unhealthy habits, and here's how to pick yourself back up:
Your fall off the wagon could take place in a single moment, or it could be the result of a drawn out process. You may fall out of exercise slowly as a result of health problems or other various life issues that spring up and monopolize your time.
Illness, vacation, holidays, changes at work or any other change in your schedule are all things that'll get you off the wagon. Once you're off the real damage begins.
There comes a point after you fall off the wagon that you simply throw your hands up in the air and give in. It may be a dramatic moment when you decide to eat anything you want, or when you begin to use food for comfort and to ease stress.
Surrender is the most destructive part of the cycle. You remove all expectations from yourself and as a result you plummet into an unhealthy realm. The progress that you've made toward your goals is lost and even more weight is gained.
Inevitably there comes the moment when you hit bottom. Your body shows the new weight gain and you feel awful about it. This is a sobering moment when you see what you've allowed yourself to become, and you don't like it one bit. Negative, defeated thoughts run through your mind. While hitting bottom is never a fun experience, it is a necessary one. The pain must become great enough for you to turn it around and take the control back.
4) Finally You Take Control
Now comes the good part. When you hit bottom you were out of control, now you're ready to once again grab the reigns. You're ready to put yourself back onto your priority list. Set healthy guidelines for your diet and get back into a regular schedule of working out. Set specific goals for yourself that are realistic and within a set timeframe. Now get to work, reclaiming your body, your freedom and your life.
Have you fallen off your priority list, and in turn fallen off the exercise wagon?
The time has come to put yourself back on that priority list. The time has come to decide that you are worth it.
I'm here to help you do just that. Call or email today to get started on an exercise program that will change your body and your life.
Remember, life will always give you an excuse to stop working towards your goals – it's up to you to fight back for what you truly want.
Order Small
When you eat out, make it a habit to order the smallest portion available. We are programmed to eat whatever is in front of us, even though we'd feel just as full on less. And since portions have grown in recent years, the smallest size isn't very small at all.
Real Food Mac and Cheese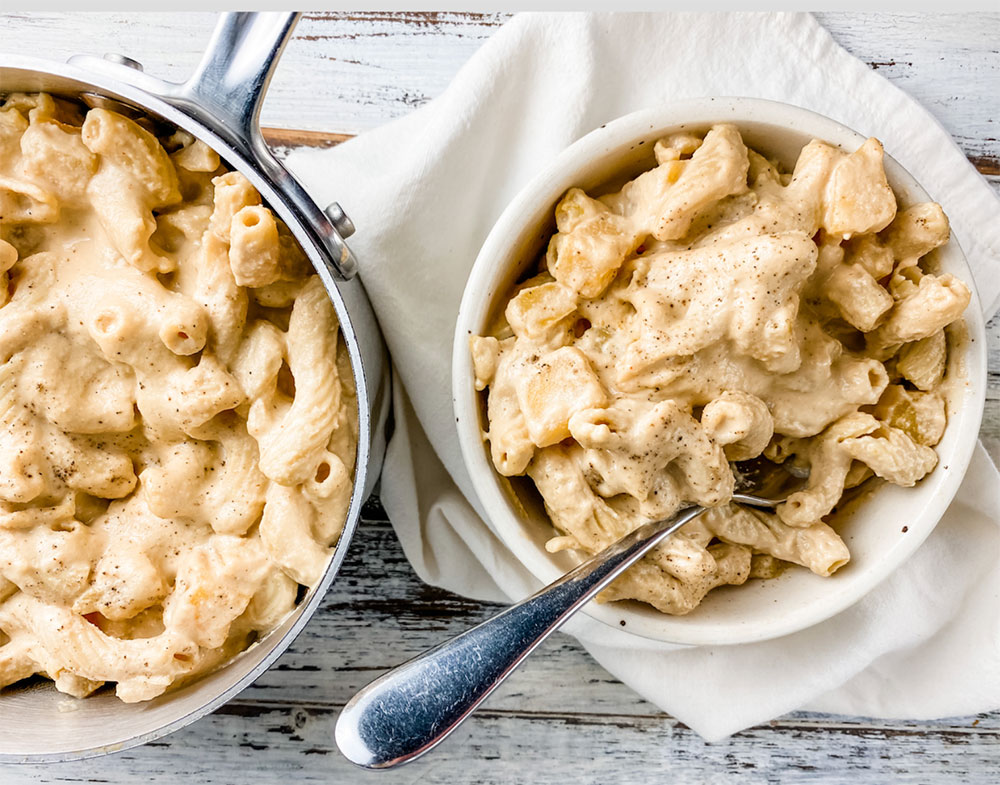 Here's a healthy take on Mac and Cheese that you and your whole family will love. What makes it healthy? It's dairy-free, made with chickpea noodles and contains chunks of real butternut squash. This turns a meal that is traditionally full of simple carbs and fat into one that has plenty of protein and fiber to help support your fitness and fat loss goals. Enjoy!
1 cup raw cashews
1 (8oz) box Banza Cavatappi (made from chickpeas)
2 cups Butternut Squash, peeled, seeded and cubed
1 teaspoon coconut oil​
1 yellow onion, chopped
1 teaspoon minced garlic
1 tablespoon coconut flour​
1½ cups almond milk (or other nondairy milk)
½ cup nutritional yeast​
½ teaspoon sweet paprika​
1½ teaspoons sea salt
1 teaspoon lemon juice
1.Place the cashews a bowl and fill with hot water. Cover and set aside for 10 minutes.
2. Bring 8 cups of salted water to a rolling boil. Add the pasta and butternut squash cubes and stir immediately. Cook for 10 minutes, until the desired firmness has been reached in both the pasta and the butternut squash. Strain and rinse with water. Set aside.
3. Heat the coconut oil in a medium-sized saucepan over medium heat. Add the garlic and onion and sauté for 5 minutes, until soft. Add the coconut flour and sauté until golden.
4. Put the onion mixture, the drained cashews, and the remaining ingredients in a food processor and blend until smooth.
5. Pour the sauce back into the saucepan and cook over low heat, stirring frequently, until warmed and thickened. Add the drained, cooked pasta and butternut squash to the pan, stir well and serve. Enjoy!
Nutrition
One serving equals: 274 calories, 15g fat, 32g carbohydrate, 9g fiber, 6g sugar and 16g protein.
Motivate your friends, family and co-workers!
Use the "refer a friend" link below to forward this newsletter and subscribe your friends.