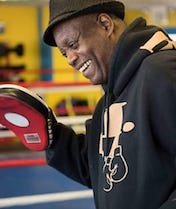 Coach Vic Lashley
Vic Lashley, known as coach lash native of Bradley Beach and the owner/head coach of Southpaw of Neptune, NJ and with over 30 years experience in Boxing, Martial Arts and Fitness and loves to teach and in part his knowledge. The seeds of self-defense called ICAT Defensive Concepts were planted back in 1968 in Asbury Park. As a young boy, Vic was a natural athlete that excelled at a variety of sports, including boxing, karate, football, basketball and tennis. His official training began at the Monmouth County Boy's Club under the tutelage of Mr. Bernard Butts. He learned that dedication and practice make perfect. His official Pugilistic (boxing) training began with Mr. Michael Murphy a professional middle weight boxer and dedicated Boy's club coach. Vic's journey continued under Master Billy Burnum in Wado Ryu Karate for several years.
At the age of 18, Victor enlisted to served in the United States Army, where he was able to continue, and expand his training and knowledge in the Martial Arts. He had the privilege of training in Hap Ki Do and Sim Do Moo Duk Kwan while stationed at United States 8th Army Command, Yong Song, Korea and the privilege of training with the Korean ROK Soldiers. While he was stationed in Fort Bliss Texas his training continued under Grandmaster Edward Brown, III in Black Knights Go Ju Ryu receiving his 1st Degree Black Belt and then called back to receive his 6th Degree Black Belt some years later. Not only did Victor serve as a military intelligence analyst but Boxer/Fighter for the Army.
After receiving his honorable discharge from the United States Army, Victor began training with Master Hamin Rasool in Wing Chun Do Gung Fu at Four Star Martial Arts Academy, Flint, MI. Here he received his blue sash ranking under Master Rasool, and was on their demonstration team in board breaking and kicking boxing techniques. Upon returning home he began competing in local tournaments at Brookdale Community College, with Grand Master J.H. Kim, in the Black Belt Division and had the honor as well as privilege of out pointing Master Fred Henry B.K.G. and Master Ray Martin, both local legends. In 1989 he joined the Princeton Academy of Martial Arts under the tutelage of Guru Rick Tucci where Vic was introduced and trained by Sifu Larry Hartsell. He attended classes in Jeet Kune Do and attended various seminars across the United States.
In 1990 Vic met Chris Ascari, 5th Level Sifu Chi Lin Pai. After learning of Victor's background and witnessed his talent Vic and Sifu Chris decided to contact Guru Richard Bustillo to begin an Apprenticeship program for Jeet Kune Do, which incorporated Muay Thai, Eskrima, Aikido, Shoot wrestling and Wing Chun Do where he advanced further in his Martial Arts career. Victor studied privately with Guru Richard Goldburg, in the Art of Butki Negara. He trained in Brazilian Jiu Jitsu with Sensei Mario Lemos. Later in 2004, he rejoined Master Chris Ascari training in the Art of Eight Limbs Muay Thai. Also during that year he began training with Sensei Erik Paulson, Japanese Shooto Champion and coach to such UFC greats as Brock Lesner and Josh Barnette in Combat Submission Wrestling. Over the years Vic has trained with many of history's great Martial Artists such as; Guru Dan Inosanto in JKD, Silat and Eskrima; Sifu Burt Richardson in JKD and JKD Grappling Arts; Professor Salem Assli in the Art of Savate; Grand Master Remy Presas, Modern Arnis; Grand Master Dong Cuesta, Doce Paras; Grand Master Chai Sirisute, Muay Thai; Grand Master Toddy, Muay Thai; Arjon Greg Nelson, CSW; Olivier Gruner, Kickboxing, Thai Boxing and many others.
Victor Lashley is a USA Amateur Boxing Coach Level 2 (Licensed with USA Boxing Association), Filipino Martial Arts Instructor (under the Inosanto Association), Jeet Kune Do Instructor (under the Inosanto Association), Lakan Guro, a Muay Thai Kru, CSW Pro Coach, Karate Shihan, Silat Kali Eskrima Guru, WITS Certified Personal Trainer, Certified TRX Instructor, State Certified Defensive Tactics Instructor (NJ State Police), Retired Corrections Officer (where he was a recipient of many awards while serving in Jamesburg Correctional Facility, Bordentown and Trenton State), Husband and family man. His extensive training and impressive career in Boxing and Martial Arts as well as his faithful service to community and ministry is what qualifies Victor to mentor, train and coach others.
Victor considers himself a continual student and is still learning, training and absorbing what's useful!